Jan 2017: Mask Making with Familie Floez in Berlin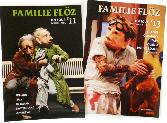 We are pleased to announce details of a workshop collaboration with award-winning company Familie Floez in Berlin. Places are limited!
Please Contact the school if you are interested in securing a place.
Familie Flöz Mask Workshop - led by Hajo Schueler
Mask making - like all activities in theatre and devised performance - is part of a multi-layered creative process. The mask maker is a creative artisan working at the intersection of the fine arts and the performing arts.
This workshop will offer each participant the opportunity to create a self designed full mask from paper mache. In addition to an exploration of the craft of mask making, participants will be encouraged to develop a strong sense of creative ownership. Starting from their own initial ideas and designs, participants will search for their own form. They will develop a character all the way to a form modelled in clay before creating the full mask in paper mache. The entire process will be supported throughout via critical feedback and helpful advice.
Alongside technical information about the process of mask making, participants will learn about essential factors such as asymmetry, anatomy, mask as projection, light, etc., which help the mask to play on stage.
Hajo Schueler, actor, performer and mask maker, is the founder of company FAMILIE FLÖZ, (www.floez.net) which he founded in 1995 during his final year of studies at the renowned Folkwang Hochschule in Essen, Germany. The company, which since 2001 has been based in Berlin, has received many awards and played in 34 countries.
Dates: Monday 9 January 2017 - Wednesday 18 January 2017 in BERLIN
(afternoons/evenings on weekdays, all times to be confirmed)
€500 per person for the whole course. Spaces are limited.
Back to archive